A ball valve is a valve with a ball in the centre, the part of the valve which controls the flow.
The ball has a hole, or port, through the middle so that when it aligns with both ends of the valve, flow will occur. When the valve is closed, the hole is perpendicular to the ends of the valve, and the valve can not flow.
Ball Valves, along with butterfly valves are part of the family of quarter turn valves.Ball valves are durable and widely used as they generally achieve a perfect shutoff even after years of disuse or service. They are therefore an excellent choice for shutoff applications (and are often preferred to gate valves for this purpose).
Ball valves are used extensively in industrial applications because they are very versatile, supporting pressures up to 1000 bars and temperatures up to 482°F (250°C).
Ball Valves are typically used in the following industries
Food
Marine
Water Purification
General Industry
Pharmaceutical
Chemical Industry
Mining Industry
Government Departments
Ball Valves come as a sealed unit 2 piece, or fully serviceable 3 piece design.
Grades 304, 316
Sizes 1/4" - 2
Catalogue and Price List: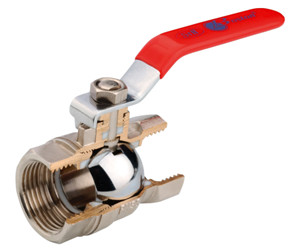 Ball valve exploded view